The ever-growing world of RGB is still at large. You either love it or hate it. If you're an RGB lover, then you definitely need to check out the relationship of Yeelight with Razer chroma RGB!
With countless user benefits, Razer has been superb in creating an immersive and customizable experience. Yeelight produces several products that will further upgrade your RGB gaming setup.
Yeelight is one of many other third party partners that are compatible with Razer. In this post I will cover several of the features they have when integrated with Razer chroma RGB.
Steps for integration with Razer
Synchronize Yeelight devices with music
Yeelight with Razer for a more interactive stream
Full customization with Razer Synapse Studio.
Final thoughts on Yeelight with Razer chroma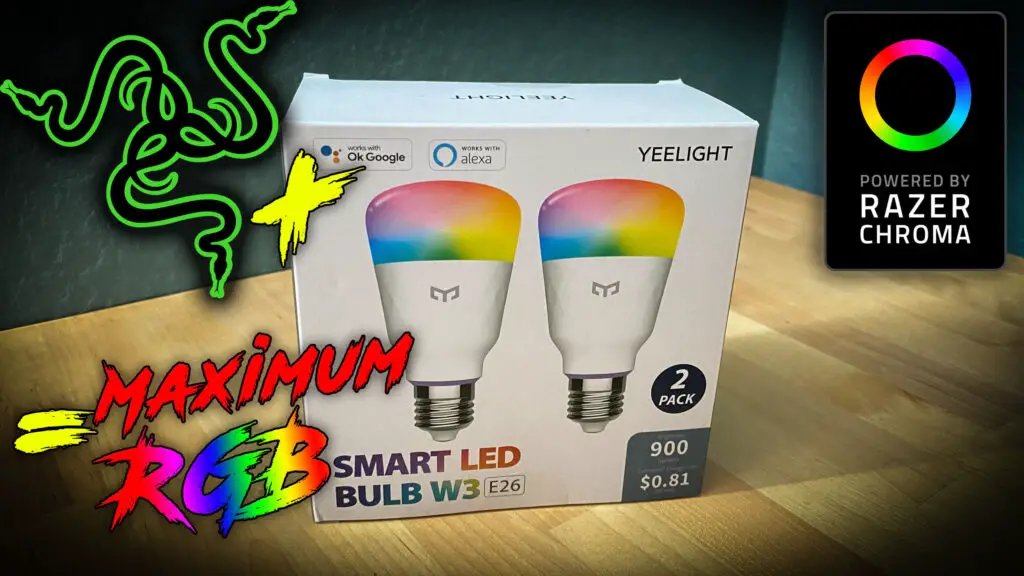 Steps for integration with Razer
In order for Yeelight RGB products to integrate and be compatible with Razer chroma there are a few steps that need to be taken.
First, you need a device (such as a phone or tablet) to install the official Yeelight app. Within the app you'll need to follow the necessary steps to connect the device to the app.
The app has some very nice standard features to customize the color of your Yeelight RGB device. However, for Razer integration, we only need the app to turn on "LAN control". This allows third party access to the Yeelight RGB devices.
Once LAN control has been enabled on the app, you then need to jump over to your PC.
Next you must install Razer Synapse 3 on your PC. Synapse 3 is the software that Razer uses to control all of their current gaming hardware including device settings, macros, and RGB lighting.
Within Synapse, there are several modules and third party software options that can be used to control partner brand devices as well, including Yeelight. Along with having Synapse 3 installed, you must also install the Yeelight Chroma Connector software from Razer's Chroma Workshop page.
Additionally you must have the Connect module installed from the Synapse>Modules tab in your Razer Synapse 3 software.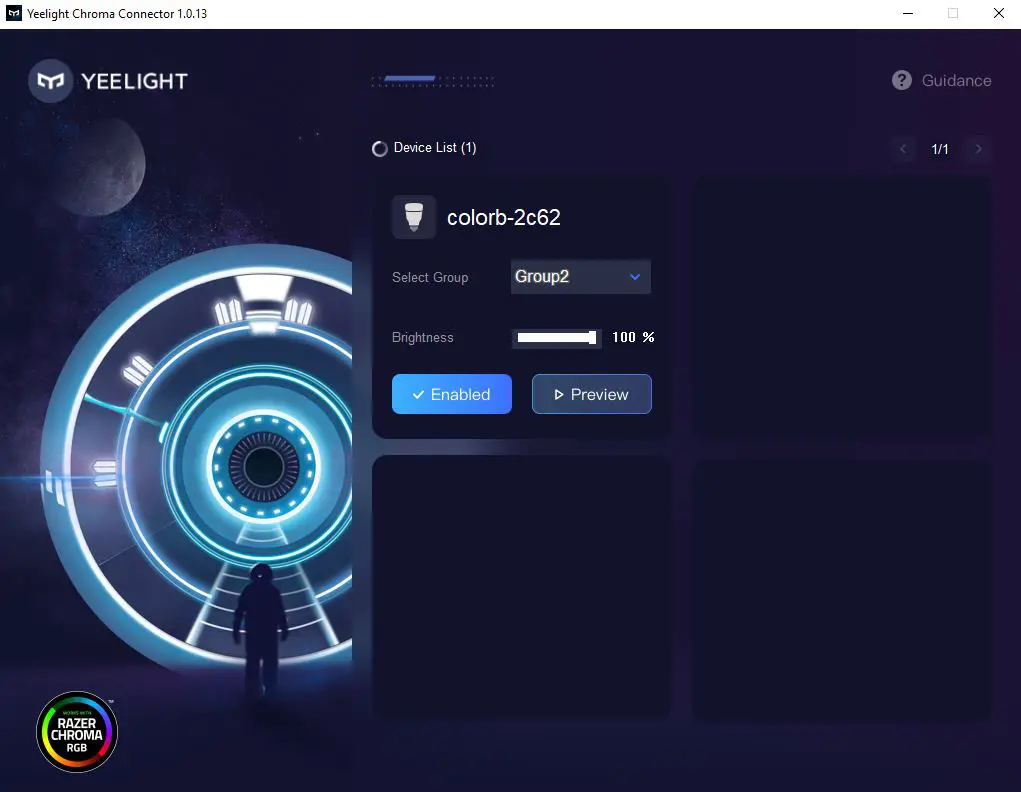 After opening the Yeelight Chroma Connector software, any of the Yeelight devices you have nearby with the LAN Control on should populate on the software window. If not, you may need to make sure that your PC is connected to the same network you used to connect your Yeelight device.
Finally, you'll need to make sure that Yeelight is enabled. With Razer Synapse 3 open go to Connect>Devices and make sure Chroma Connect and Yeelight is switched on.

At this point your Yeelight devices should now be connected and synchronized with Razer Chroma RGB. Now let go over all of the goodies we have available to us.
Recommended Products from Yeelight:
Synchronize Yeelight devices with music
Yeelight RGB devices can be used with Razer's Chroma Visualizer to be audio reactive. Just install the Chroma Visualizer module from Synapse>Modules.
Ensure that the visualizer is enabled and make sure the audio playback device is set to the device creating audio.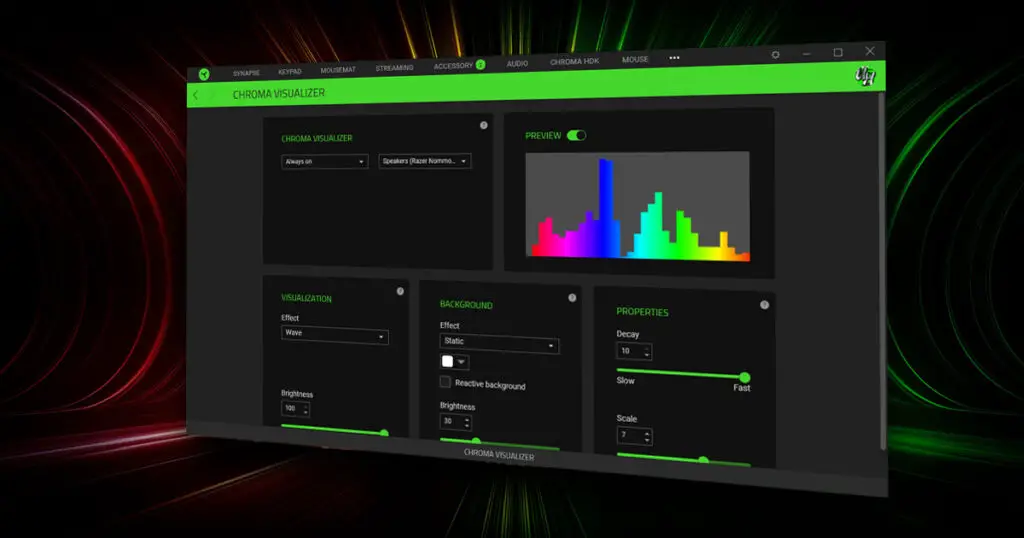 This module allows you to customize the visualization effect as well as the background (When audio is not being played). For example, you can have your Yeelight Smart Bulb set to be a static blue color and when audio is played it can turn into a rainbow wave.
Lastly, when it comes to a user's audio, settings are very unique to each setup. The visualizer has property settings to cater to each users particular setup. A scale feature can be used to manually adjust the size of the visualization so that you're seeing a proper display no matter what your volume is set at.
For more information on the Chroma Visualizer check out my dedicated post on the visualizer app.
Video Game RGB Integration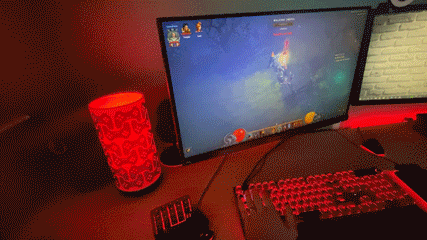 My personal favorite feature of having my Yeelight products synchronized with Razer chroma RGB is the integration with video games! With all of your devices synchronized and reacting to your actions in game, your gaming experience becomes incredibly immersive.
Razer currently has compatibility with 150+ game titles including Fortnite, APEX Legends, Diablo III and much more! I can tell you personally that experiencing your next level up in diablo with RGB integration is a massive boost the dopamine levels you would normally receive.
Yeelight with Razer for a more interactive stream
Separate from the Razer Synapse 3 software, when connected Yeelight also has compatibility with the Razer Streamer Companion App.
If you're trying to grow a stream following one of the best things you can do is make your stream more interactive to viewers. Yeelight with the Companion app will accomplish that for you.
The Companion app integrates with your Twitch and StreamLabs account to control your RGB devices and react to stream activity. This too is a fully customizable experience for yourself and viewers.
You can add the Yeelight Smart Bulb W3 to an office lamp in the background of your stream and have it display lighting effects that react when you gain new followers/subscribers. Reward donations with visual effects live in your camera.
You can even have a lighting effect go off anytime someone leaves a message in chat. Never miss a chat message again!
Full Customization with Razer Synapse Studio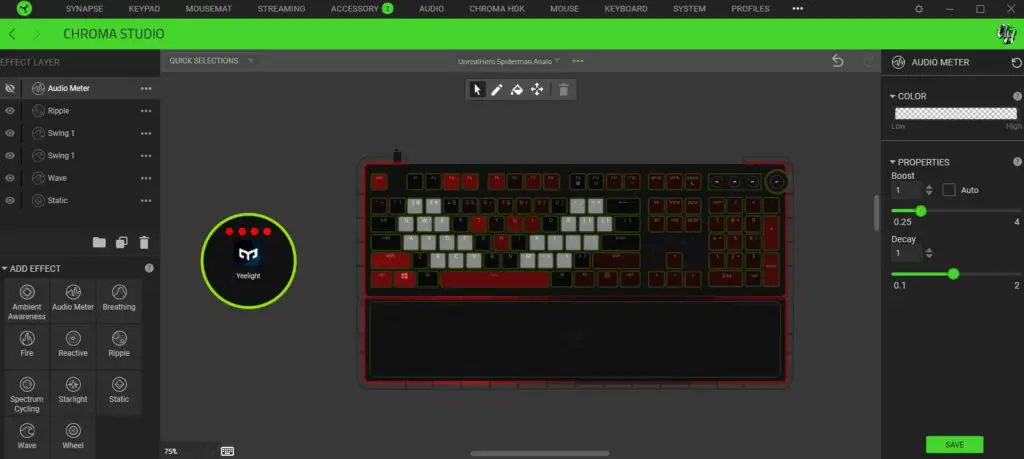 Adding Yeelight devices to the Razer Synapse studio can seriously level up your custom RGB lighting game. The devices will sync to your lighting profiles and display the colors and effects that you have chosen.
Just like the Razer devices, Yeelight will show up as a device inside your Studio window. Here you can apply all of Razer's lighting effect layers to it. Such as ambient awareness, audio meter, breathing, fire, ripple, spectrum cycling, starlight, static, wave and the wheel effect.
Final thoughts on Yeelight with Razer chroma
I would recommend giving the Yeelight products a try. The price point is very affordable and the quality seems to be comparable to other RGB products on the market.
Thank you for reading this post, if you have any questions about Yeelight products you can leave them down below and I will do my best to answer them.
Follow UnrealHero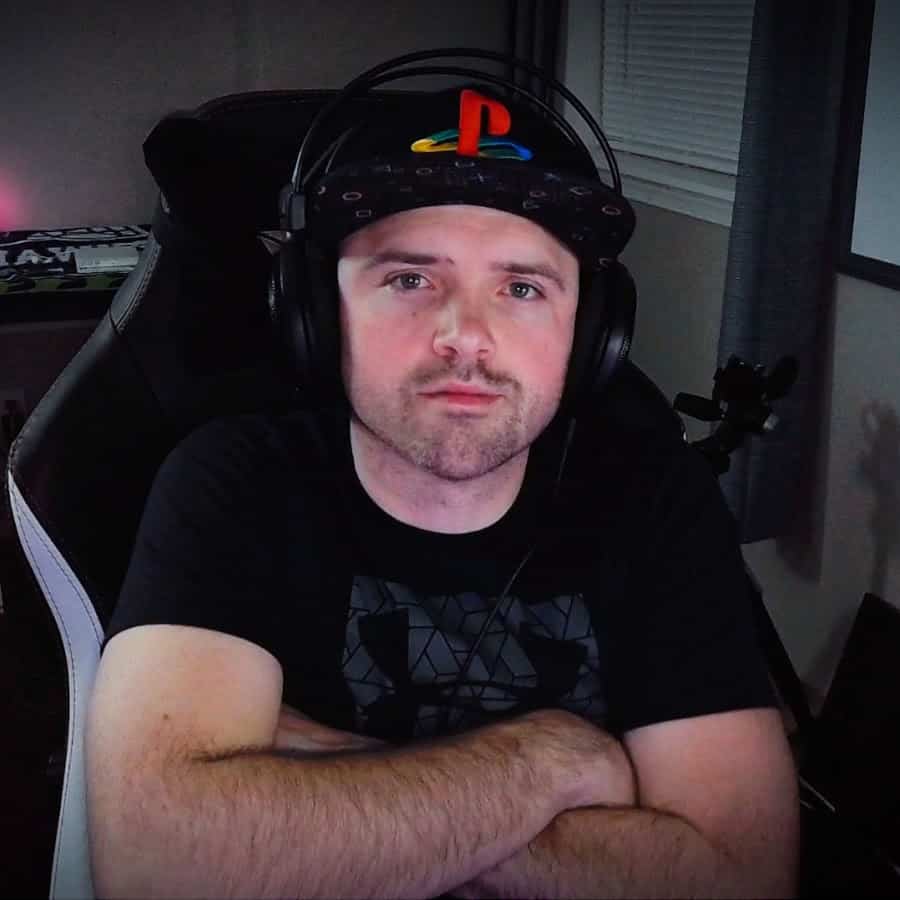 If you're a fan of RGB then you might consider following for my latest content on these platforms




Using a different keyboard? Watch this video to learn how to expand a keyboard lighting design onto other keys as well as other devices!