The recently released aftermarket Razer Phantom keycaps are designed to enhance their beautiful Chroma RGB capabilities. However, with a listing price slightly above other market competitors, are they worth buying?
Over the last few years I've spent countless hours creating hundreds of RGB designs on my YouTube channel. I can confidently say that nothing makes your keyboard's RGB standout more than a nice set of keycaps.
The following is a list of topics I will be covering in regards to the new Phantom keycaps
Keycap Features
Compatible Keyboards
Color Options
What Comes in the Box?
Physical Properties
Would I Recommend These Keycaps?
Alternative RGB Keycap Options
Keycap Features
The primary feature of the Razer Phantom Keycaps is it's unique stealth design. The keycap has bottom-lasered legends so there are no engravings on the surface of the keycaps. What this equates to is a keycap legend that is only visible when it's lit by RGB lighting. In fact, I had to hold the keycap against my monitor's light just to see what legend it was.
They're also fixed with translucent sides on the bottom half of the keycap to the additional lighting can be exposed on your keyboard. This the most desired feature for us RGB enthusiasts.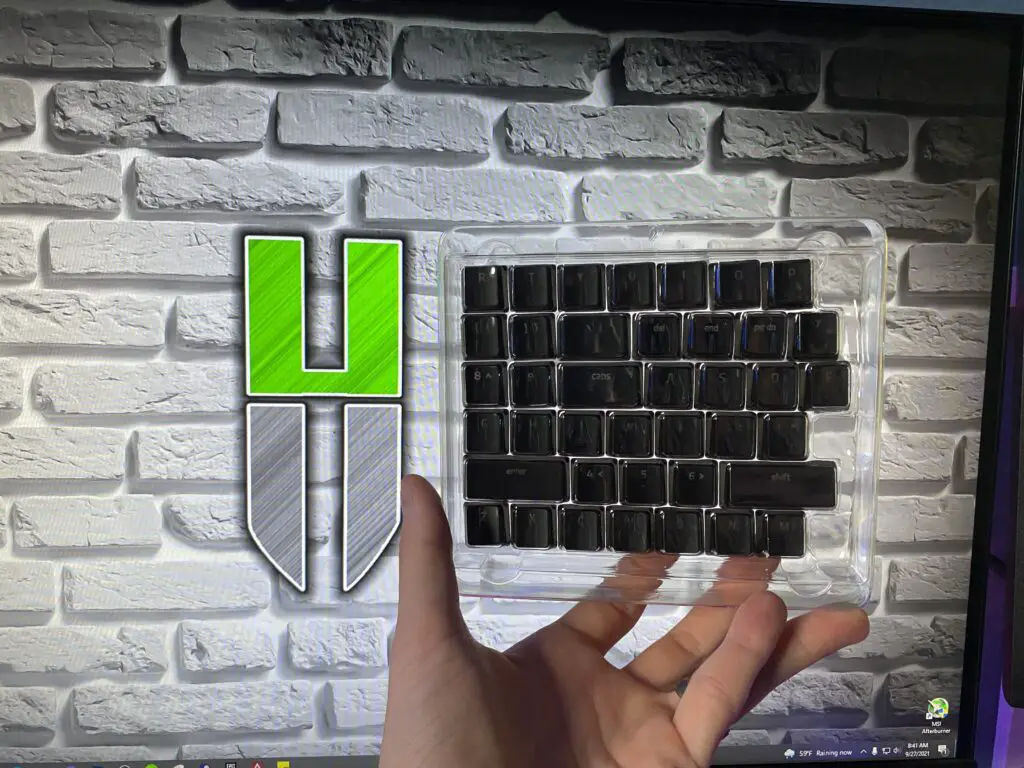 Compatible Keyboards
The Razer Phantom Keycaps are designed to fit most MX-Style stemmed switches. For Razer's keyboard lineup, these keycaps will fit on the Blackwidow (mechanical) and the Huntsman (Optical-mechanical) keyboards. This includes the smaller TKL and Mini versions of these keyboard families.
**These keycaps are not compatible with traditional membrane or mecha-membrane switches (Cynosa and Ornata)**
Razer does provide many additional keys inside the box which offers compatibility for most US and UK layouts. Including some older Razer keyboards which have a Non-Standard bottom row, such as the Razer Huntsman Elite. However, this keycap upgrade DOES NOT come with additional macro keycaps that fit keyboards like the Razer Blackwidow Chroma V2.
These keycap will fit other branded keyboards that have the same keyboard layouts as Razer.
Color Options
At the time of writing this post the Phantom Keycap upgrade set comes in a Black and White color option. While both the white and black options are both considered the "Phantom Keycap Upgrade Set" they offer very different appearance and performance.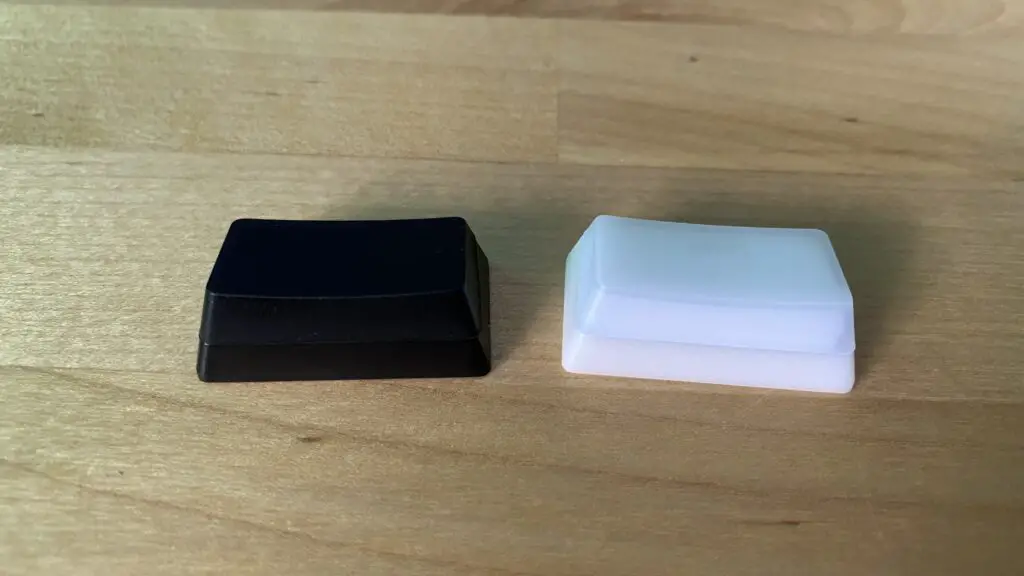 Black
When holding the black version in hand the top half of the keycap looks like a standard non-transparent keycap. The bottom half of the keycap has dark translucent sides. Though, due to the dark plastic, they really don't provide too much more light exposure than a standard keycap.
White
Unlike the black option, when holding the white keycap in hand the top half gives a translucent appearance and the transparent bottom doesn't quite appear… transparent.
Both the white and black versions have the same texture and feel. However, it's blaringly obvious that the white expose much more light than it's black counterpart.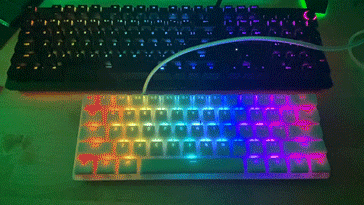 What Comes in the Box?
Inside the box there are 128 Phantom keycaps some of which are there for compatibility with all US and UK keyboard layouts.
Replacement stabilizers are also provided in the box for both mechanical and optical switches. This is extremely convenient since removing the stabilizers from your current keycaps can sometimes be difficult.
Razer also provides a keycap puller in the box. It's nice that they provided this in the box if you find out you're in need of one. However, the keycap puller is quite flimsy and falls off of the keycap more often than not.
Lastly, as with all of their products, they've included a product information guide.
What wasn't included in the box, which might be first for me, was Razer's famous sticker sheet. So much for adding to my Razer sticker collection.
Physical Properties
The keycaps are made up of ABS plastic material and each cap is actually made up of two pieces which are separable. There is a transparent keycap mold with a non-transparent cap fixed to the top.
One major negative that I see with the keycap is that, due to the keycap being 2 separate pieces, the keycap legends turn out to be quite blurry.
There is a very nice textured surface to these keycaps in comparison to other RGB keycap competitors on the market.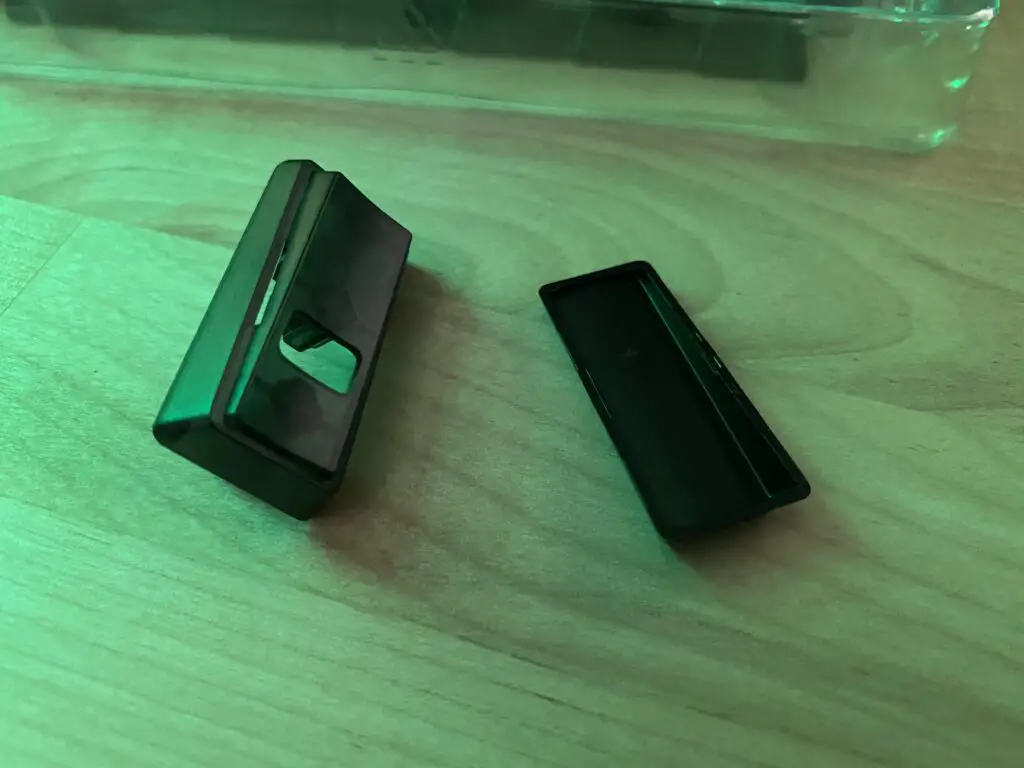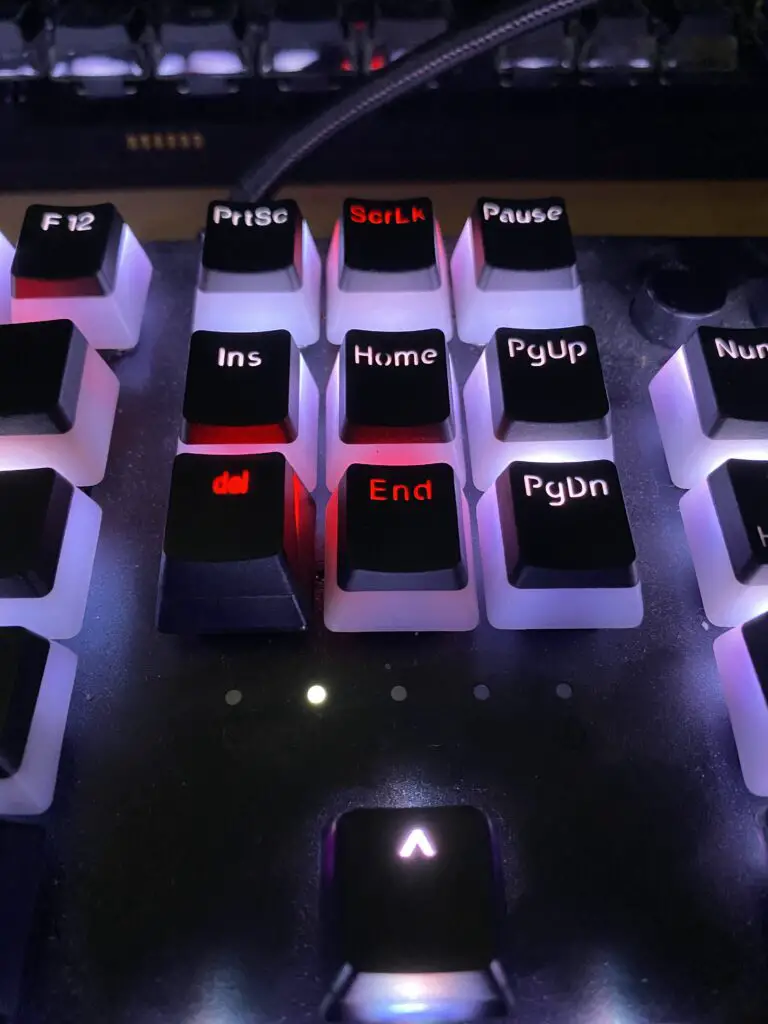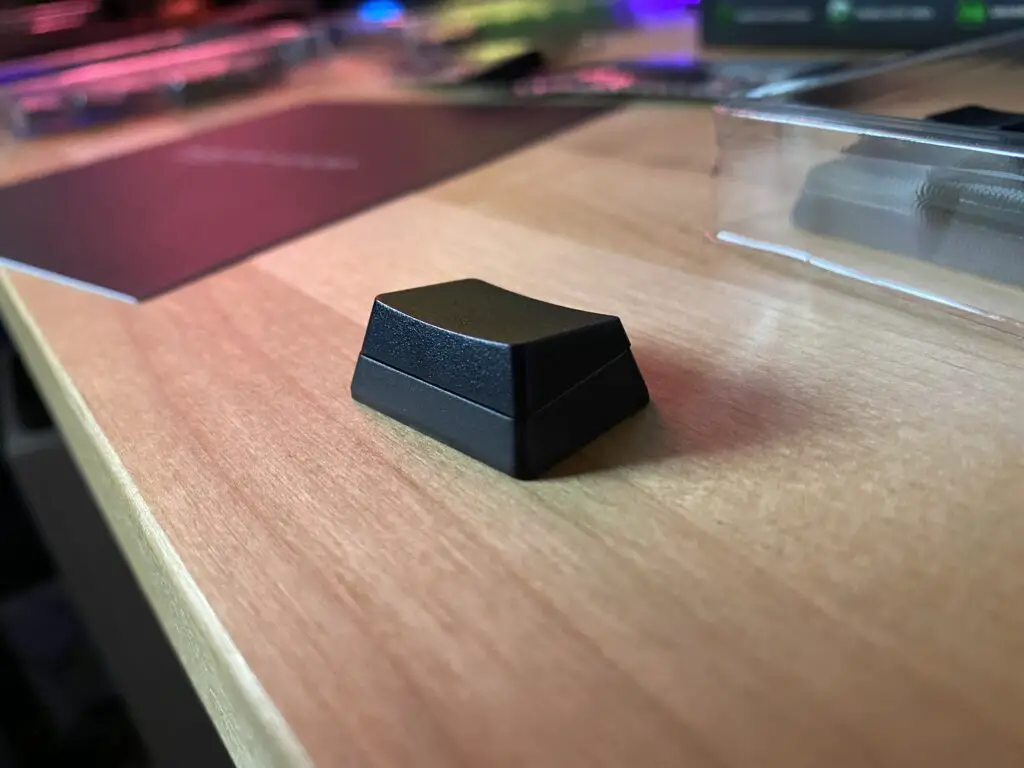 Would I Recommend The Razer Phantom Keycaps?
Yes and no…
There are many different keyboard layouts and for some, there are just better options that produce more light exposure at a cheaper cost.
The Phantom Keycap Upgrade Set is a fantastic option for those users who have keyboards with non-standard bottom row keycaps and can't find other compatible options.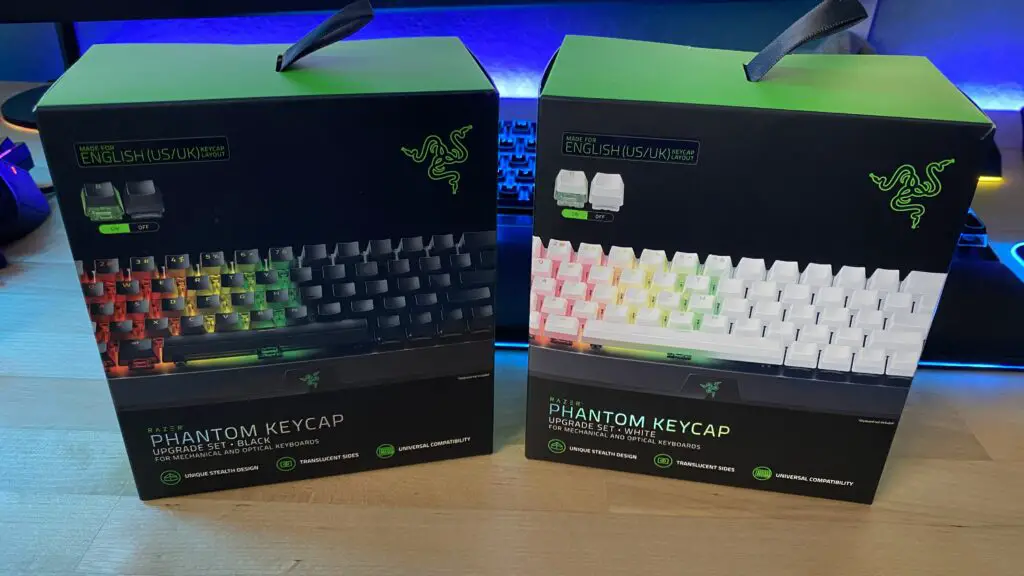 Alternative RGB Keycap Options
If you decide that the Razer Phantom Keycaps are not a good fit for your setup there are some additional options that may fit yours needs.
My first and favorite recommendation would be GSkill's Crystal Crown Keycaps.
They feature a clear bottom half keycap which reflects light EXTREMELY well, almost too well.
The only negatives to the Crystal Crowns are that they only support standard bottom row keycap sizes. They also don't come with a "fn" keycap. Instead they just come with 2 windows keycaps.
If you have a keyboard with non-standard bottom row keycap sizes then your best alternative has to be the YMDK set available on Amazon.
This set by far has the most compatible options for a large variety of keyboards.
The HyperX pudding keycaps are identical to the YMDK keycap set listed above.
I recommend these for anyone who likes this style of keycap and has standard bottom row keycaps. Simply because you should find them cheaper than the YMDK set.
For more details, check out my post on pudding keycaps for Razer keyboards.
Conclusion
If you're like myself and find it pleasing to have a nice RGB keyboard setup, then there's nothing that can provide a better improvement than a keycap upgrade.
The Razer Phantom Keycaps are a pleasant upgrade from the traditional standard keycaps. However, due to their price compared to market competitors, I believe there are better current options.
---
Follow UnrealHero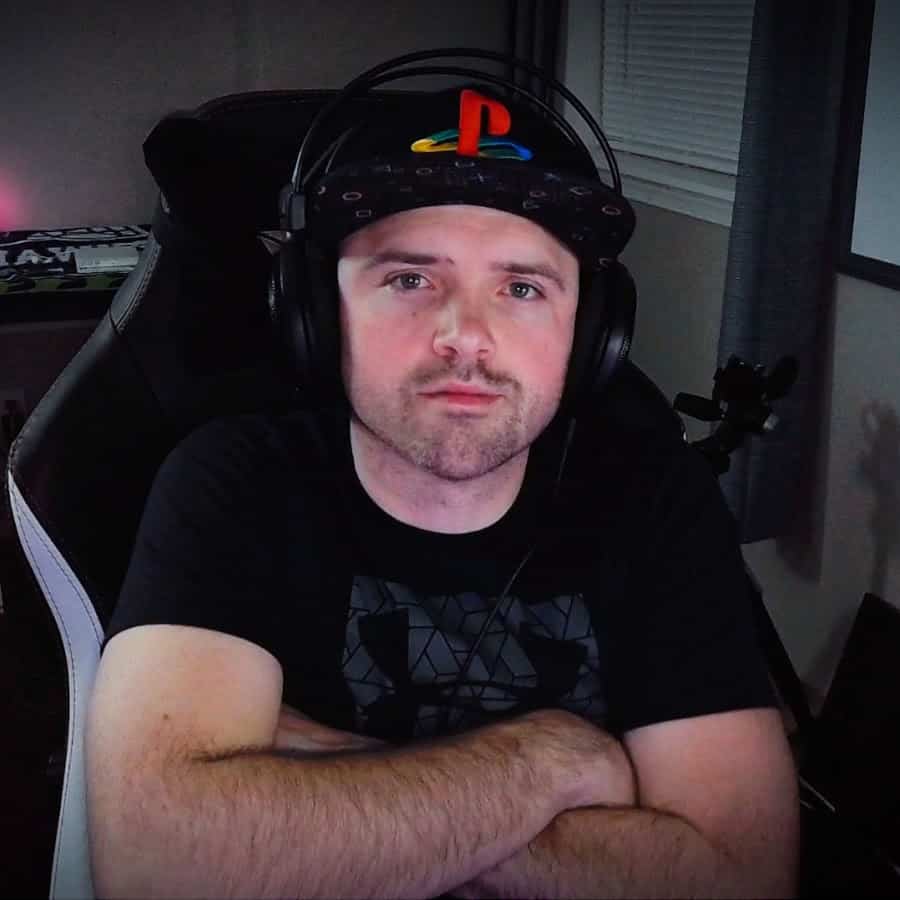 If you're a fan of RGB then you might consider following for my latest content on these platforms




Using a different keyboard? Watch this video to learn how to expand a keyboard lighting design onto other keys as well as other devices!