Ever since owning my very first Razer RGB keyboard, I have found creating custom chroma profiles to be a very exciting experience. I have certain designs that I like to use for specific games and it can be quite tedious having to change profiles every time I switch a game.
Razer made it possible to assign RGB profiles to specific games so that your keyboard lighting changes automatically. Here's how to do it.
Install and Open Razer Synapse 3.
Go to SYNAPSE > MODULES and install CHROMA STUDIO.
Create or download a custom profile in the STUDIO tab.
Go to PROFILES > DEVICES > CHROMA STUDIO.
Select the Chroma Effects profile you want to assign.
Click on "LINKED GAMES +".
Select the game you want to link to your custom profile.
Linking a game to custom RGB profiles is a very convenient way to get the most out of your Razer RGB lighting. Below I will go over a few troubleshooting tips for issues you may run into. I'll also cover places to find downloadable custom-made profiles.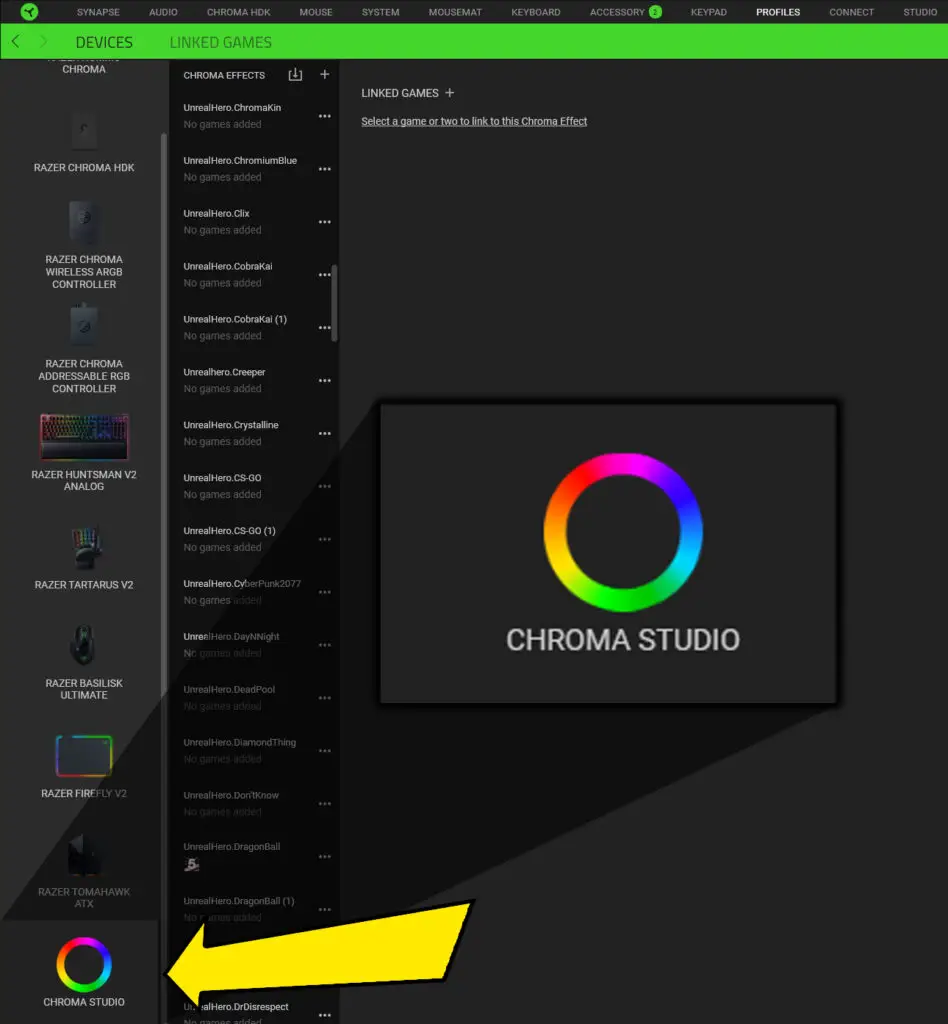 I Don't See My Game In Razer Synapse Linked Games
If you have a game installed on your computer that you don't see on the Linked Games list you'll need to add it manually.
This means you'll need to be able to find the game's executable file. The easiest way to do that is to add a desktop shortcut.
Add a game to Linked Games
Make sure there is a desktop shortcut for the game.
Click the "+" icon in the Profiles>Linked Games tab in Synapse 3.
Click the Browse button in the popup window.
Navigate to Desktop, select your game, and click Open.
Note: If after you click Open the game doesn't appear on your list. Make sure that the game and it's launcher is updated. Then retry the steps above.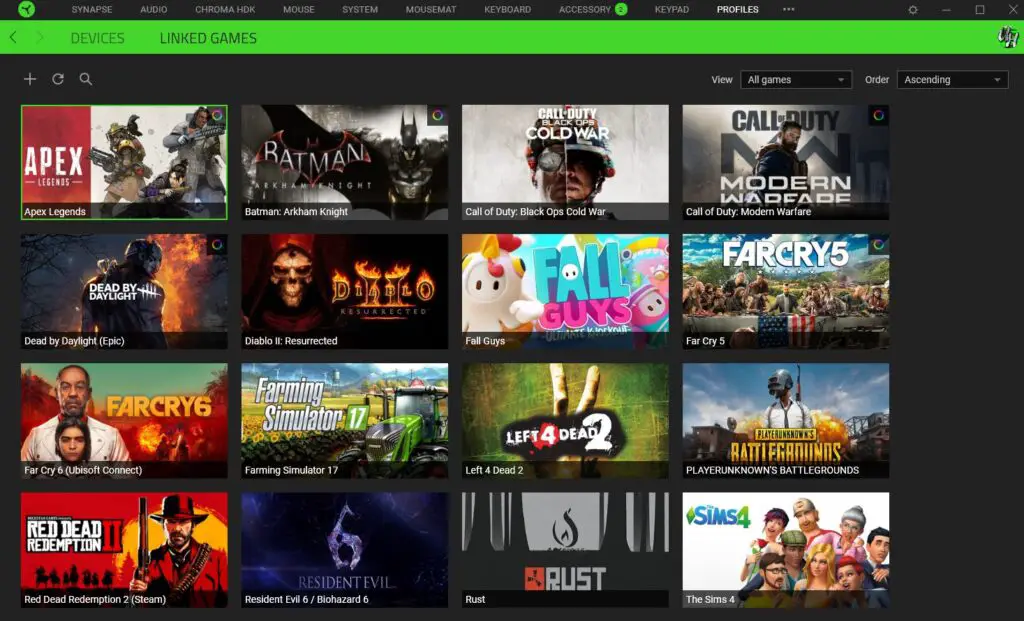 How Do I Stop A Game From Controlling My Razer RGB Lighting?
Razer has RGB integration with a growing list of game titles that can create an immersive experience for users when they play. If this interests you, check out my post on how to set up Razer chroma game integration. However, sometimes users would rather switch to a custom-made chroma profile while playing a game. Luckily this is very easy to make possible.
Integrated games are linked to Razer Synapse through Chroma Connect. To disable RGB game integration open Synapse 3 and go to Connect > Apps. Here you should see a list of games that are integrated. Select the game you wish to disable RGB integration for. A slider will appear in the upper right corner of the window to disable the app.

Does Razer Synapse Have Game Profiles?
Razer Synapse has integrated RGB profiles for many game titles. By installing and enabling the Chroma Connect module in the Synapse 3 software the game will automatically take over your Razer devices RGB Lighting.
Popular game titles with Razer chroma integration include
Minecraft
League of Legends
Valorant
Fortnite
Roblox
Counter-Strike: Global Offensive
Elder Scrolls Online
Rust
Outlast 2
Diablo 3: Reaper of Souls
See the full list of games on Razer's website.
How Do I Set Up Razer Synapse?
When connecting your Razer device to your computer the first time there will be a prompt on-screen to install the Synapse 3 software. Otherwise, you can visit Razer's website to install it from there.
The software can be a little complex to navigate when you are first getting used to it, so here are some of the key points.
There will be a tab at the top of the window for each one of your Razer devices. Use these tabs to set custom settings for each one of your peripherals. You can also apply some of the basic RGB lighting effects in your device's Lighting tab.
Use the Synapse dashboard to see all the devices and modules you have connected to the software. Also from the Synapse tab you can install additional modules that allow even better RGB customization, Amazon Alexa capability, third party device integration, and much more.
How Do I Download Razer Synapse Profiles?
There are 2 types of profiles that can be used with the Razer Synapse software. Razer Synapse profiles(.SYNAPSE3 file) are profiles that are created for hardware settings such as macros, key binds, sensitivity, etc. Razer chroma profiles are profiles that are used to save your device's RGB light settings.
Razer chroma profiles can be downloaded onto your own devices through the Studio Tab in Synapse 3. To use them, the Studio module must be installed from the Synapse Tab. For more information check out my in-depth guide on how to import Razer chroma profiles.
Razer Synapse profiles are not commonly shared publicly on the internet because they are typically so personal to the user. They're most often shared privately between people or used to transfer your device settings to another setup. Download these onto your devices by clicking the device tab that you wish to import the settings for. Click the meatballs(…) menu to import.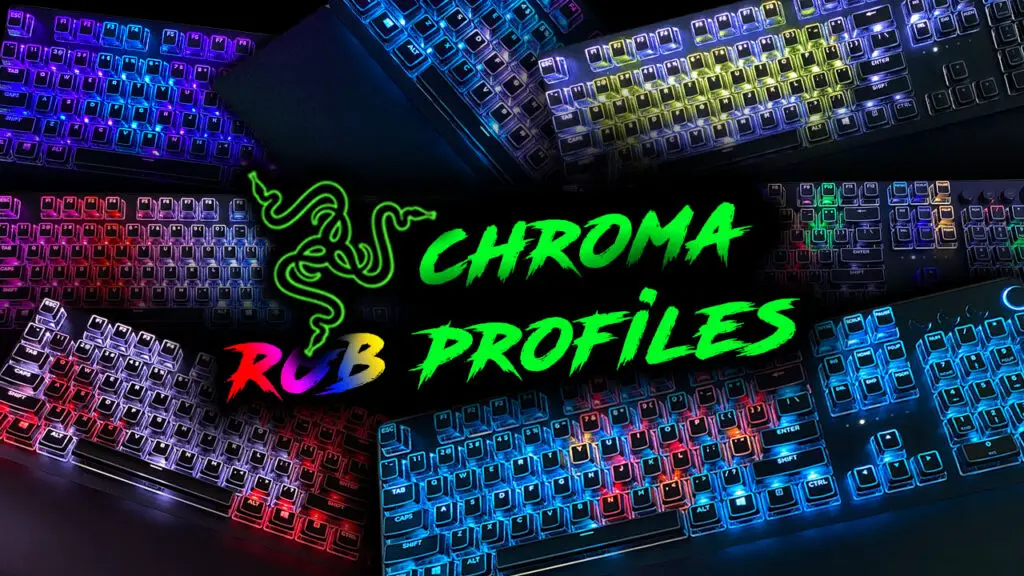 Best Places To Download Custom Razer Chroma Profiles
Follow UnrealHero
If you're a fan of RGB then you might consider following for my latest content on these platforms
Using a different keyboard? Watch this video to learn how to expand a keyboard lighting design onto other keys as well as other devices!