The Electricity Razer Chroma design is a blue and white color combination that displays electric waves on the keyboard. It's an all reactive design that doesn't reveal anything at all unless a key is pressed or audio is played.
The Electricity design was inspired by a request post on the Chroma Profiles Reddit page.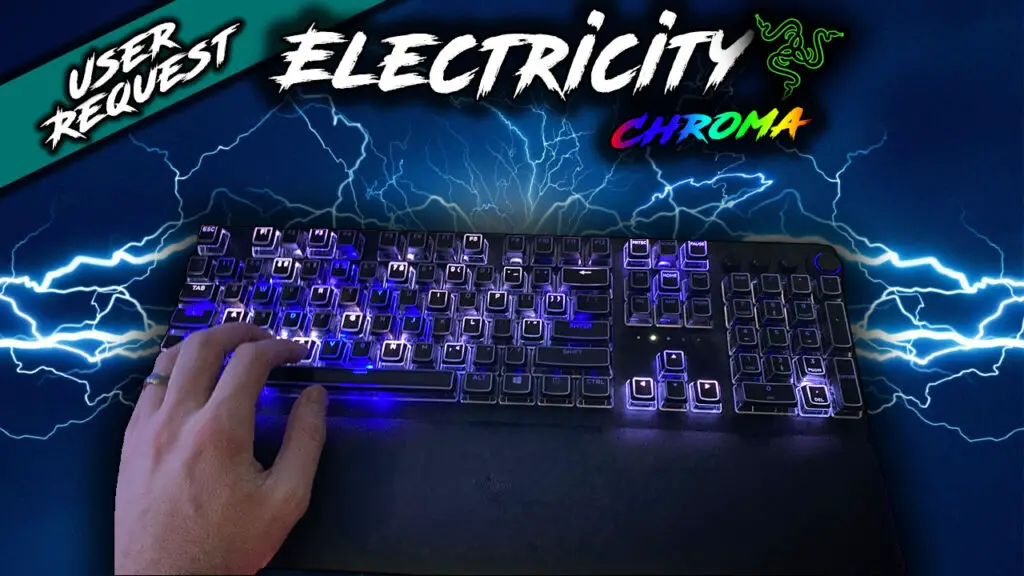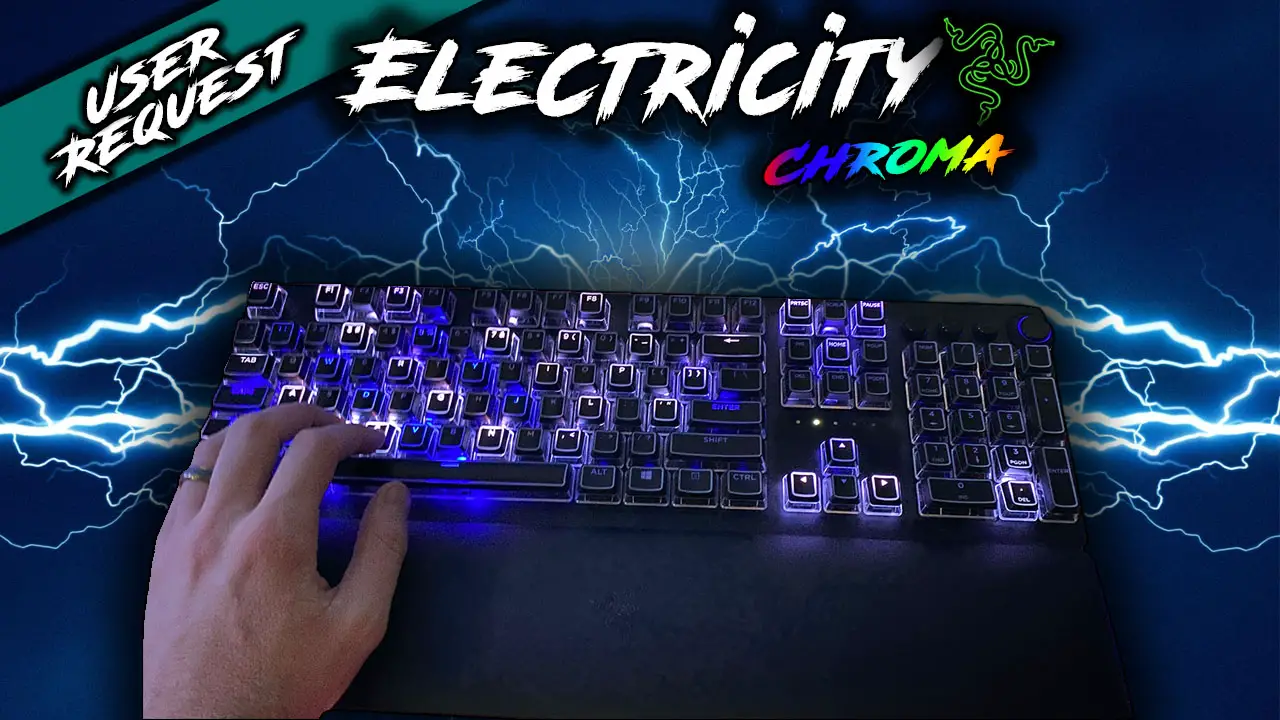 Request
The Lighting Design
Upon activating this profile on your keyboard you may think something went wrong. That's because this profile is actually blank until you begin pressing keys or play audio.
This profile is an 8 effect layer design constructed to make your keyboard look like electricity is flowing from your fingertips.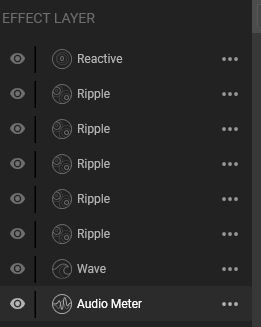 Effect Layers
This is one of very few, if not the only, designs where I start with an Audio Meter as my bottom layer. Over all lighting zones on all of my devices I set a black, blue and white colored audio meter to add some life when audio is played.
By enabling the "Auto" property you allow the synapse software to adjust to your PC's audio settings.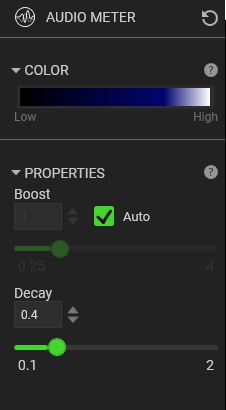 The next layer used is a Wave effect layer to create a mask over the Audio Meter. You can use a small portion of transparent nodes with black nodes to show a small reveal of the AM layer underneath.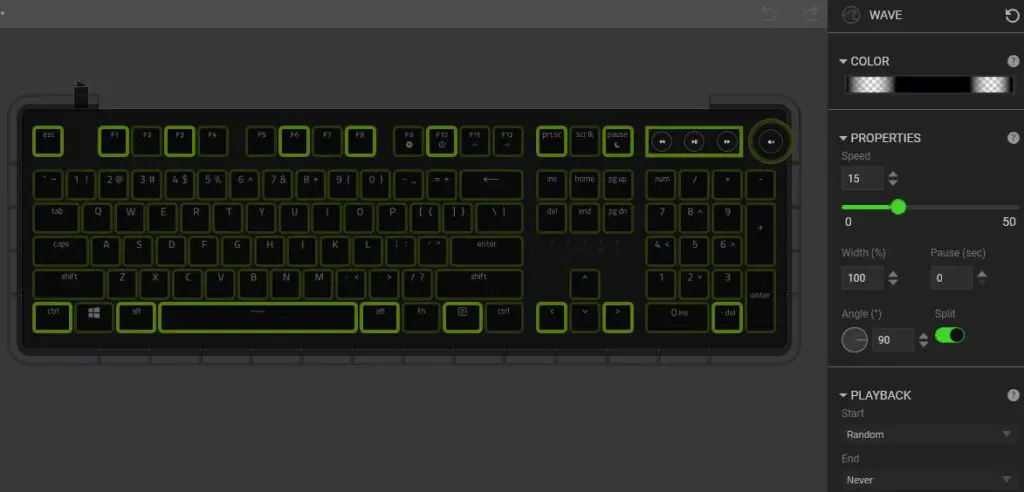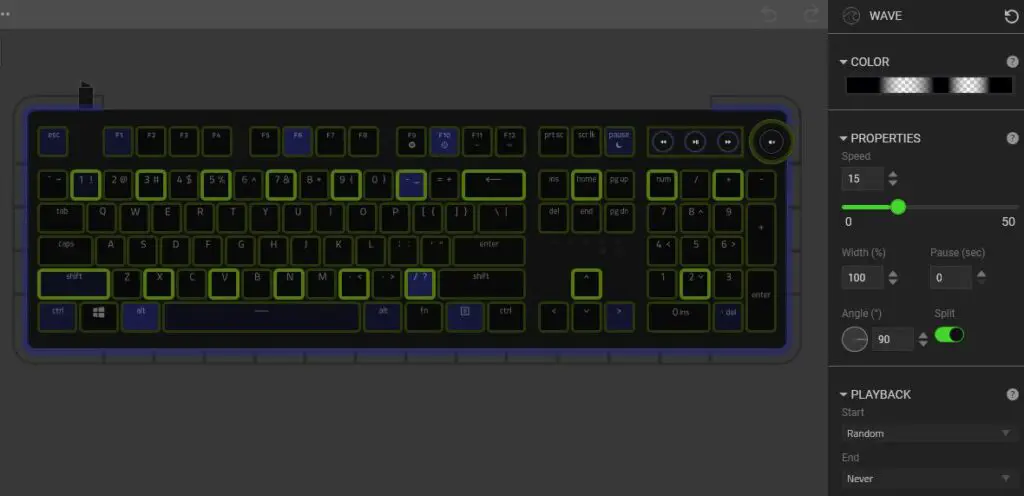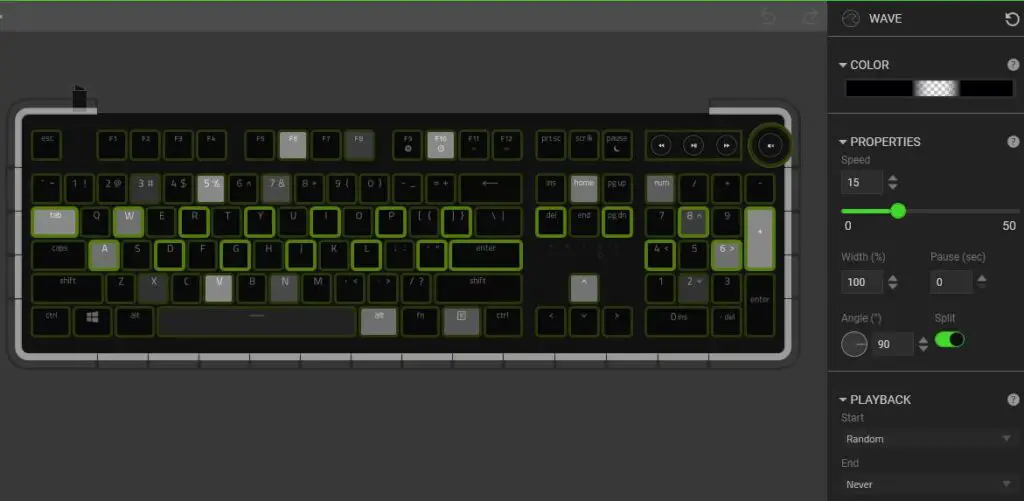 Follow that wave layer with 5 different Ripple effect layers that are a combination of blue and white colors. each layer should be on lighting zones that are spaced well apart so the ripple appears to be jumping across the keyboard. The speed on these layers should also be turned up.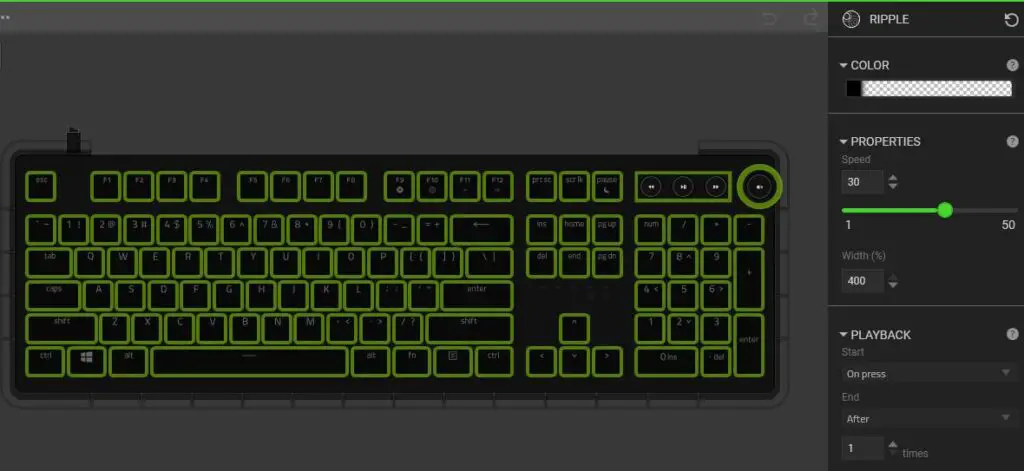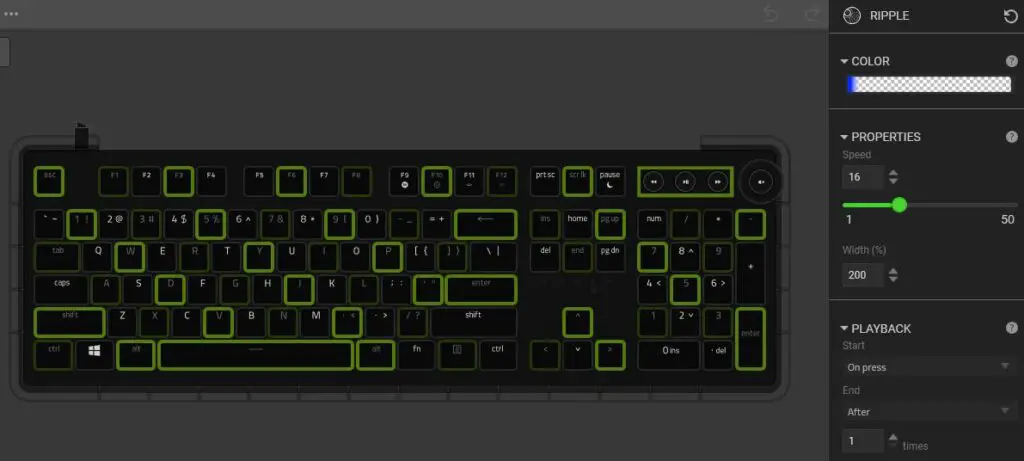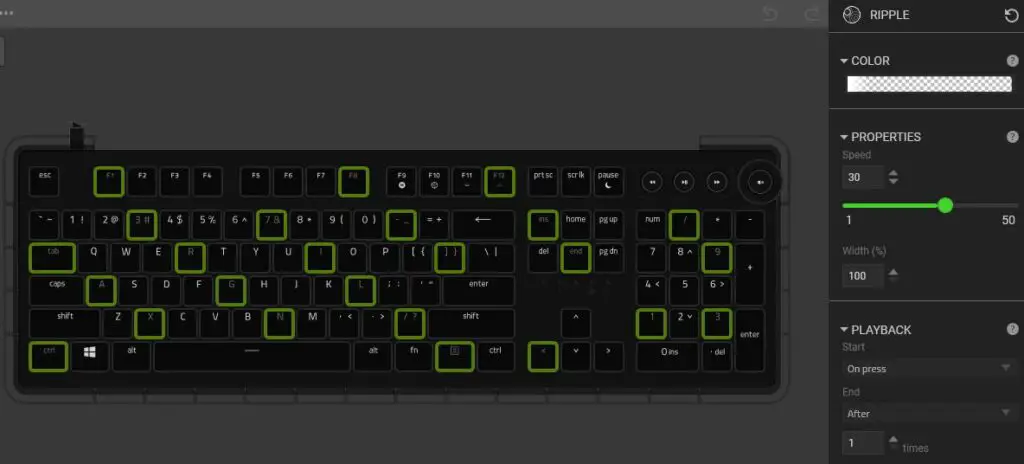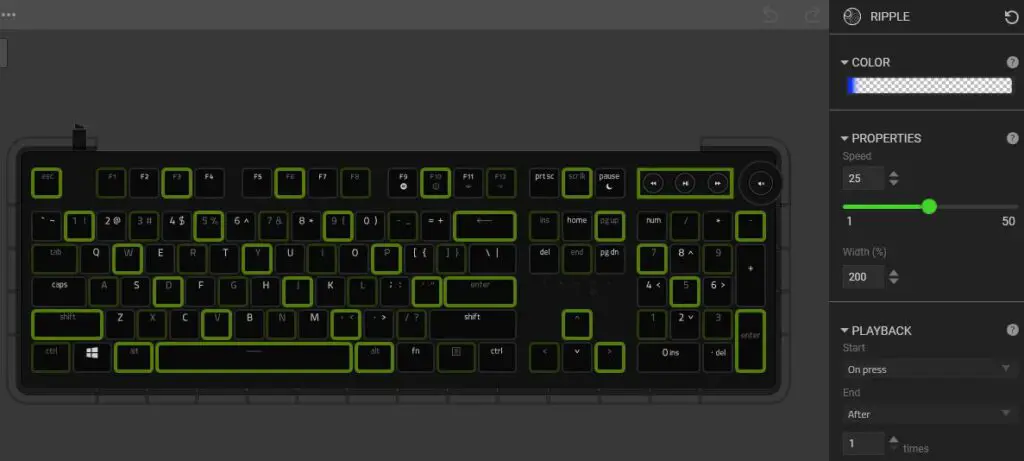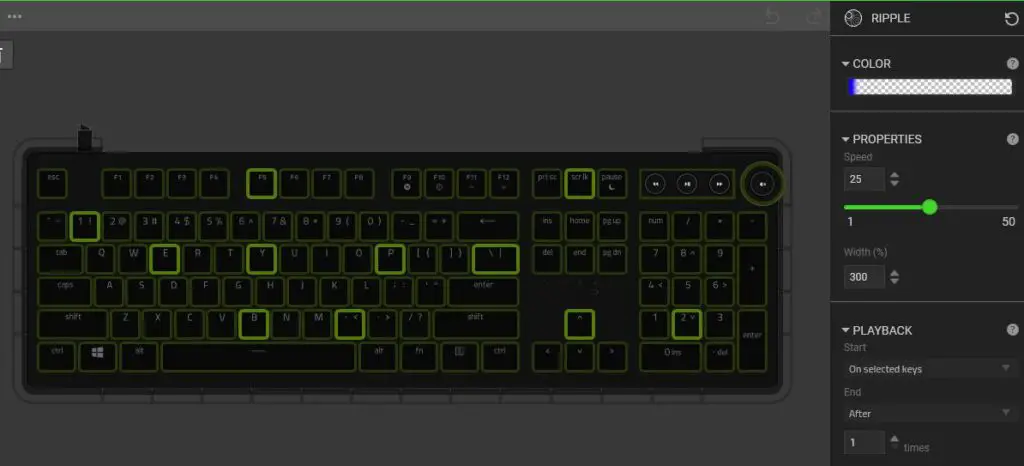 Lastly, the final layer is a white Reactive effect layer to add a little interest while using the keyboard.

Conclusion
It's not quite possible to create the exact effect requested by the user on Reddit. That's because Razer doesn't have a lighting effect the reacts to holding down a key press(other than Reactive).
So although I can't make it look exactly the same, I was able to use several ripple layers to create a similar effect while actively using the keyboard.
This is by far the most Ripple effect layers I have ever put into a design. Even though I'm not a huge fan of the ripple effect I was not disappointed with this design!
If you liked this design, be sure to check out my Fighting Light Sabers profile as well.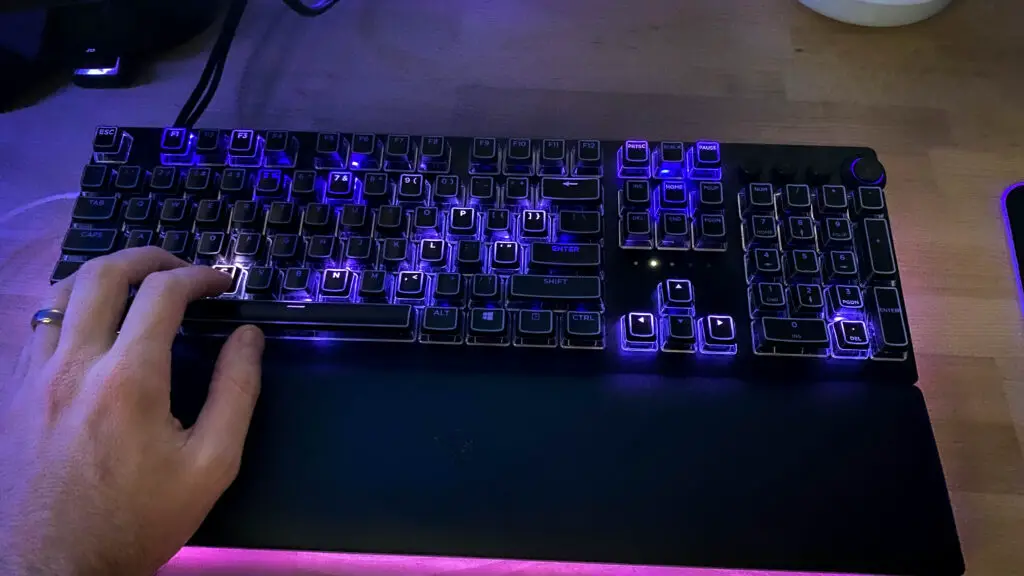 Razer Devices Used in this Profile
HDK LED Light Strip(Not Available)
Yeelight Chroma Connect
MSI Mystic Light Chroma Connect
Nanoleaf Chroma Connect
Follow UnrealHero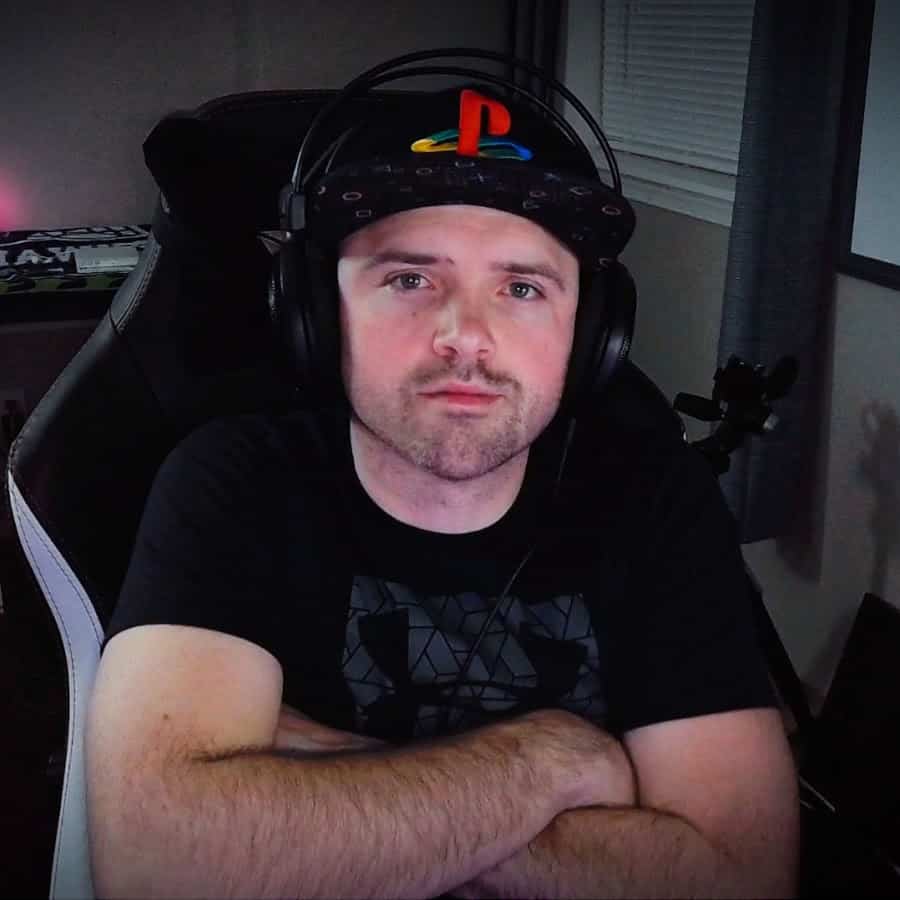 If you're a fan of RGB then you might consider following for my latest content on these platforms




Want more Cool Razer Chroma Profiles? Check out my Profile Gallery

Join our Chroma Profiles community on Reddit or Discord! There are thousands of members sharing ideas, tips, and even more Chroma Profiles.