Hey everyone, for this Razer keyboard lighting design I wanted to make a profile based on my personal favorite streamer to watch, Aydan.
In this design, I attempted to recreate his logo with Razer RGB keyboard lighting and I have to say.. I was fairly successful.
If you are a fan of Aydan and you have a Razer Chroma keyboard, then your are sure to like this Aydan Razer chroma profile.
Like this profile? Check out my Dr Disprespect lighting design.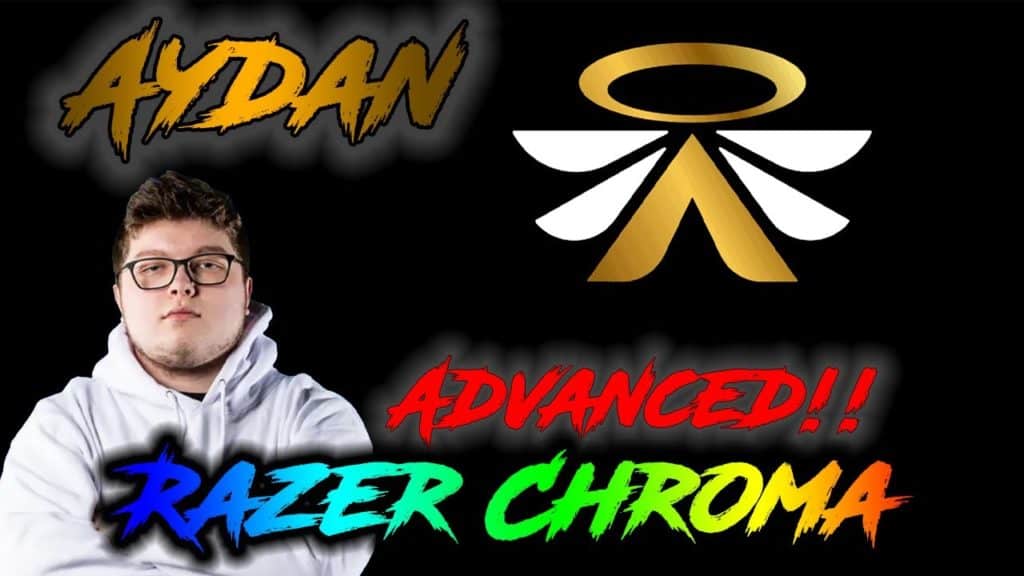 Aydan Razer Chroma Profile
WHO IS AYDAN?
He is the GOAT… But in all seriousness, Aydan is a Twitch streamer who gained popularity by showing the world what he can do on a gaming controller.
He was picked up by team Ghost for his ability to play Fortnite at a high level.
He was thrust into fame during the 2018 PAX West Fortnite tournament where he continuously clashed with NickMercs in Tilted Towers.
The head-to-head battles were by far the most entertaining headline of the entire weekend.
Currently, Aydan is no longer attached to a gaming team and he is a well developed standalone streamer.
His streams are entertaining for me because he is an ultra competitive Battle Royal player who is constantly pushing high kill games.
He also competes in games with money on the line almost every stream whether its tournaments or wagers with viewers.
You can find out more about Aydan by following him on the following platforms:
RAZER CHROMA PROFILE
The Aydan Razer Chroma profile design was created with the following Chroma lighting effects:
Wave – For the Background lighting, Aydan Logo, caps/num lock indicator and peripheral lighting
Reactive – To add a pop of color while using the keyboard
Wheel – I put the wheel effect layer on the Razer Nommo Speakers because I think it compliments the round shape better than my usual wave.
AFFILIATE NOTIFICATION:
As an Amazon Associate and member of other affiliate programs we earn a small commission from qualifying purchases through our affiliate link. For more information read our Entire Affiliate Disclosure.  
FOLLOW ME
If you haven't had a chance to check out my Youtube channel, go ahead and hop over there and subscribe, also follow me on my social media accounts for teasers on my upcoming lighting designs and videos.  
Follow me on Instagram 
Follow me on Twitter 
Check me out on Twitch!  
MY EQUIPMENT: 
Huntsman Elite(Keyboard) 
Huntsman Mini(60% Keyboard)
Basilisk Ultimate(Mouse)
Firefly V2 (Mouse Pad)
Razer HDK (LED Light Strip) 
Nommo Chroma(Desktop Speakers) 
Tartarus V2(Gamepad)
HyperX Keycaps(White & Black)
Bottom Row Pudding Keycaps for Razer Keyboards
  Using a different keyboard? Watch this video to learn how to expand a keyboard lighting design onto other keys as well as other devices! 
Want more Cool Razer Chroma Profiles? Check out my Profile Gallery