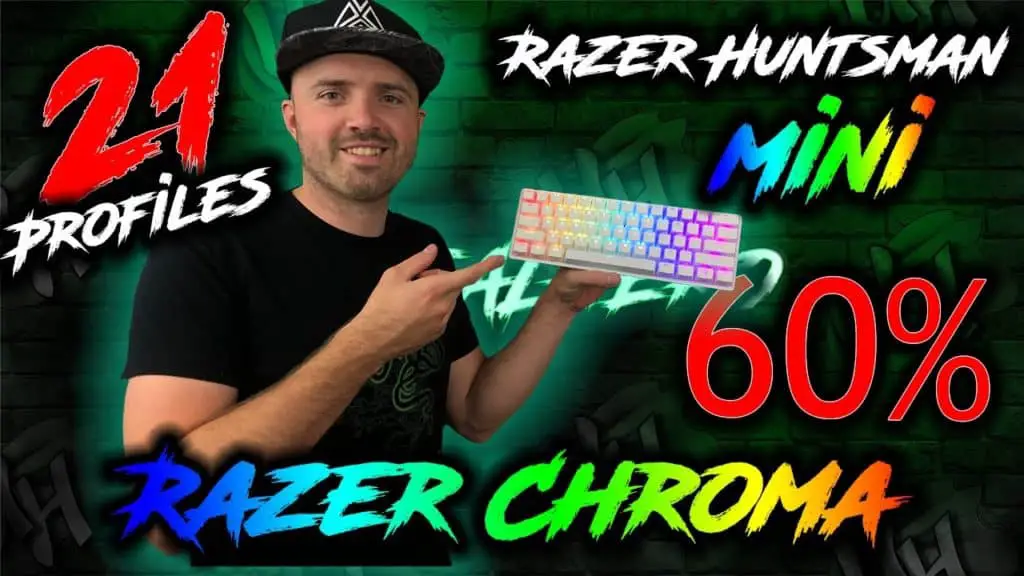 The Razer Huntsman Mini has just been released and I've tweaked 21 chroma profiles from my Synapse 3 library for you guys to put on your new 60% keyboard! I've been waiting years for Razer to make a 60% keyboard and I'm so excited it's finally here! This keyboard is small, compact and looks really great in Razer's Mercury white finish. The lighting profiles reflect really well off the white keyboard. Also, I also purchased the HyperX Keycaps to really showcase the chroma lighting and give the look a much bigger pop of color. 
FOLLOW ME
If you haven't had a chance to check out my Youtube channel, go ahead and hop over there and subscribe, also follow me on my social media accounts for teasers on my upcoming lighting designs and videos.  
Follow me on Instagram 
Follow me on Twitter 
Check me out on Twitch!  
MY EQUIPMENT: 
Huntsman Elite(Keyboard) 
Huntsman Mini(60% Keyboard)
Basilisk Ultimate(Mouse)
Firefly V2 (Mouse Pad)
Razer HDK (LED Light Strip) 
Nommo Chroma(Desktop Speakers) 
Tartarus V2(Gamepad)
HyperX Keycaps(White & Black)
HyperX Keycaps(White & Black)
Bottom Row Pudding Keycaps for Razer Keyboards
  Using a different keyboard? Watch this video to learn how to expand a keyboard lighting design onto other keys as well as other devices! 
Learn how to switch RGB profiles automatically when you switch games! For more details click here.
Want more Cool Razer Chroma Profiles? Check out my Profile Gallery

Join our Chroma Profiles community on Reddit or Discord! There are thousands of members sharing ideas, tips, and even more Chroma Profiles.