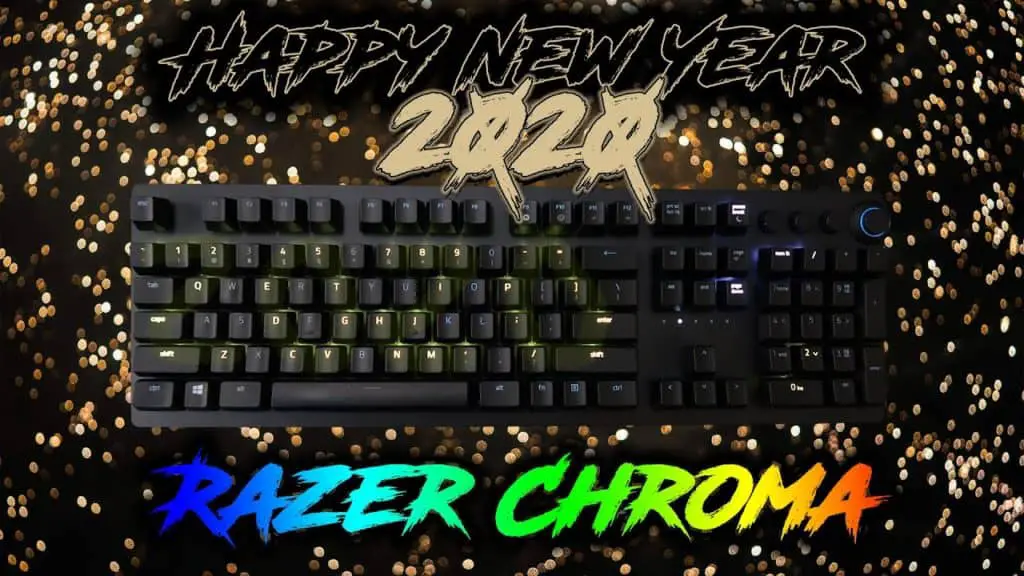 2020 Design
The 2020 Razer chroma profile is a design I made all on my own. With the design I wanted to incorporate the focal point of a New Years night which includes both a countdown, as well as a celebration.

The design a is equipped with a timer that counts down from 10 on the number keys. During the countdown the background also reacts to the timer as it gets closer to zero. If you have a Razer Basilisk mouse, Then there is a timing meter on the thumb side light strip.

Once the timer reaches zero certain keys light up across the keyboard which make out the numbers "2020" across the keyboard. I've also placed the design in a strategic spot so that users with a 10-keyless keyboard don't have any issues seeing the design. If you do have a full size keyboard, then you will not be missing out on the firework explosion going on in the upper right section of the keyboard.

If the color scheme is not what you're in to, then I highly recommend following along with the tutorial video and substituting whatever color you would like. 

For a full and in depth tutorial on how to use the Razer Synapse 3 software to customize your Razer Chroma keyboard click here.
Similar Profile
Do you like my 2020 chroma design? Then I highly recommend checking out my Fireworks profile. Fireworks is a chroma lighting profile that was created for the 4th of July but can easily be used for New Years time as well. The design has 5 different colored firework explosions going off all over the keyboard.
I also have an updated 2021 design.
Follow UnrealHero
Check out my Youtube channel. Go ahead and hop over there and subscribe.
Also follow me on my social media accounts for teasers on my upcoming lighting designs and videos. 
Follow me on Instagram
Follow me on Twitter
Check me out on Twitch! 
The equipment I am using:
Razer HDK LED Light Strip
Razer Nommo Chroma Desktop Speakers 
Using a different keyboard? Watch this video to learn how to expand a keyboard lighting design onto other keys as well as other devices!
Want more Cool Razer Chroma Profiles? Check out my Profile Gallery

Join our Chroma Profiles community on Reddit or Discord! There are thousands of members sharing ideas, tips, and even more Chroma Profiles.